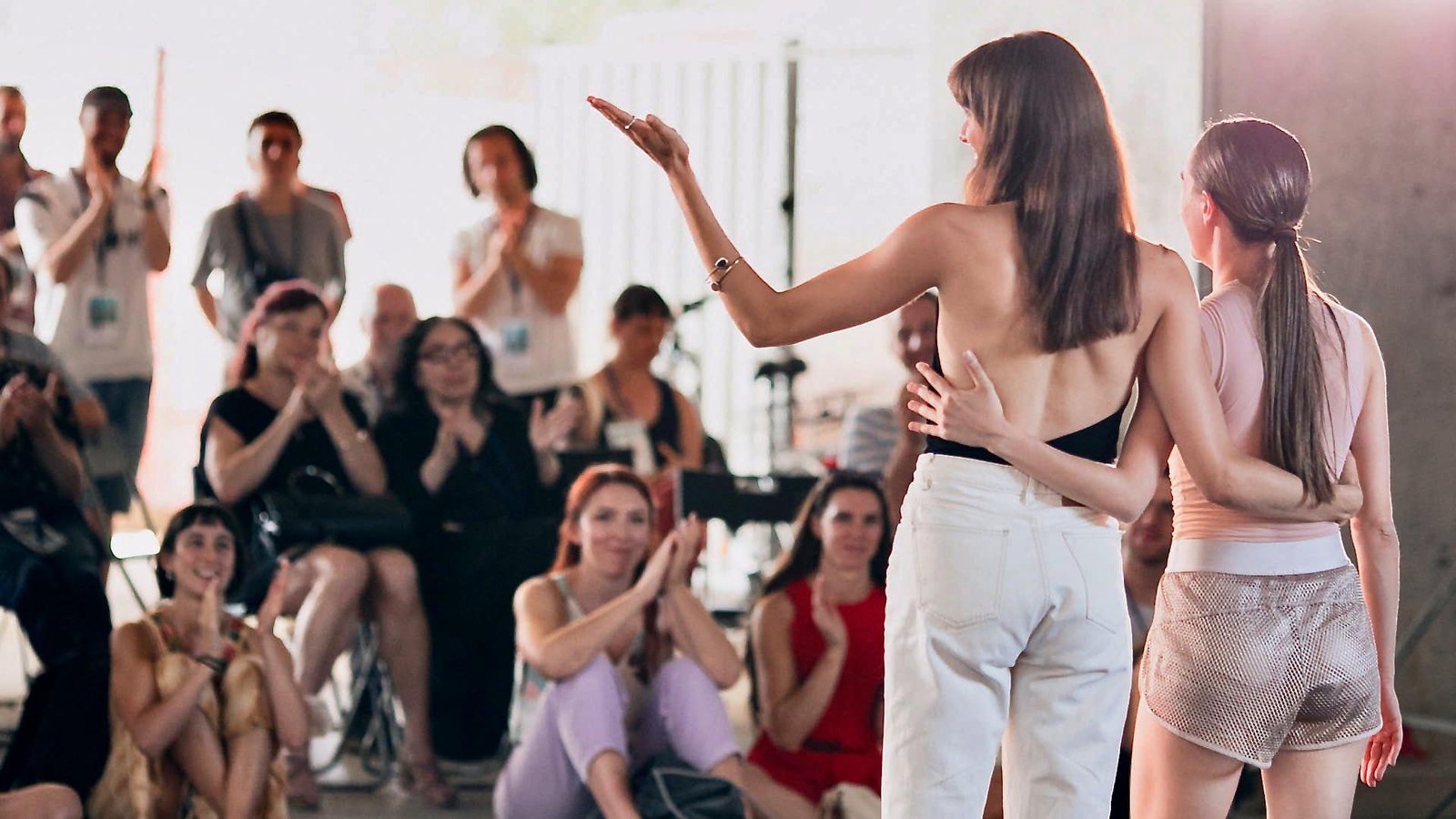 A backstage look at the people and artists of the pioneering dance network Aerowaves, and their influence on contemporary dance across Europe since 1996. 
For the last 25 years, Aerowaves has been at the forefront of innovative contemporary dance in Europe through supporting the work of emerging creators, shaping the art form and connecting the continent's dance world in the process. This documentary dives into the rich history of Aerowaves, the artists they have identified and supported, and the many offshoots that have grown up around this game-changing organisation, including experiments in VR. The film contains archive footage of past festivals, in-depth interviews with the founders and artists, and beautifully shot dance made specially for film. 
The film features interviews with: Founding Director John Ashford (previously of ICA & The Place) and Administrative Director Anna Arthur; prominent Aerowaves artists from across Europe, including Patricia Apergi (GR), Igor & Moreno (IT), and Oona Doherty (UK); esteemed dance writers Sanjoy Roy (the Guardian) and Donald Hutera (The Times); and connected dance professionals and partners.  
Director Biography – Enya Belak
Enya Belak is a multidisciplinary artist whose work spans film directing, choreography, and beyond. With a background in contemporary dance, her research focuses on the body as primary subject. Since her MA in Directing Fiction Films at Goldsmiths University London, she has contributed to many film, music video and dance projects, as well as co-developing an innovative method for recording dance in virtual reality. Her directing work includes the acclaimed documentary 'Aerowaves at 25'. As a choreographer, Enya recently presented the live dance duet 'BLUFF'; and the multi-genre project 'Blue Ink', which encompasses dance, VR 360° film, and hybrid performance. 
www.enya-belak.com 
Aerowaves is a hub for dance discovery in Europe. The organisation identifies the most promising new work by emerging dance artists and then promotes it through cross-border performances. Aerowaves' network of partners in 34 countries enables these younger choreographers to bring brand new dance to brand new audiences.
www.aerowaves.org 
| country | United Kingdom |
| --- | --- |
| runtime | 60:00 |
CREDITS
Director

Enya Belak

Producers

Enya Belak,
Dany Mitzman,
Eva Posedel,
Clàudia Brufau Bonet

Executive Producer

Aerowaves Co-funded by the European Uniont

Produced by

Springback Production © Springback Production 2022

Editor

María Alonso Araujo

Sound Designer

Sebastian Dressel
with the support & participation of Aerowaves Partners & Artists

Cinematography

Ioanna Tsoucala,
Nicola Galbusera,
Blaž Ocvirk,
Igor Crnković

In association

Springback Magazine & Springback Ringside

starring

John Ashford,
Anna Arthur,
Betsy Gregory,
Yvona Kreuzmannová,
Victoria Marangopoulou,
Frosso Trousa,
Iztok Kovač,
Edvin Liverić,
Roberto Casarotto,
Liz King,
Elisabetta Bisaro,
Oonagh Duckworth,
Sanjoy Roy,
Ka Bradley,
Donald Hutera,
Beatrix Joyce,
Patricia Apergi,
Csaba Molnár,
Igor Urzelai Hernando,
Moreno Solinas,
Christos Papadopoulos,
Oona Doherty,
Jesús Rubio Gamo,
Pietro Marullo,
Viktor Černický,
Joy Alpuerto Ritter,
Cécile Da Costa,
Alexandros Stavropoulos,
and others