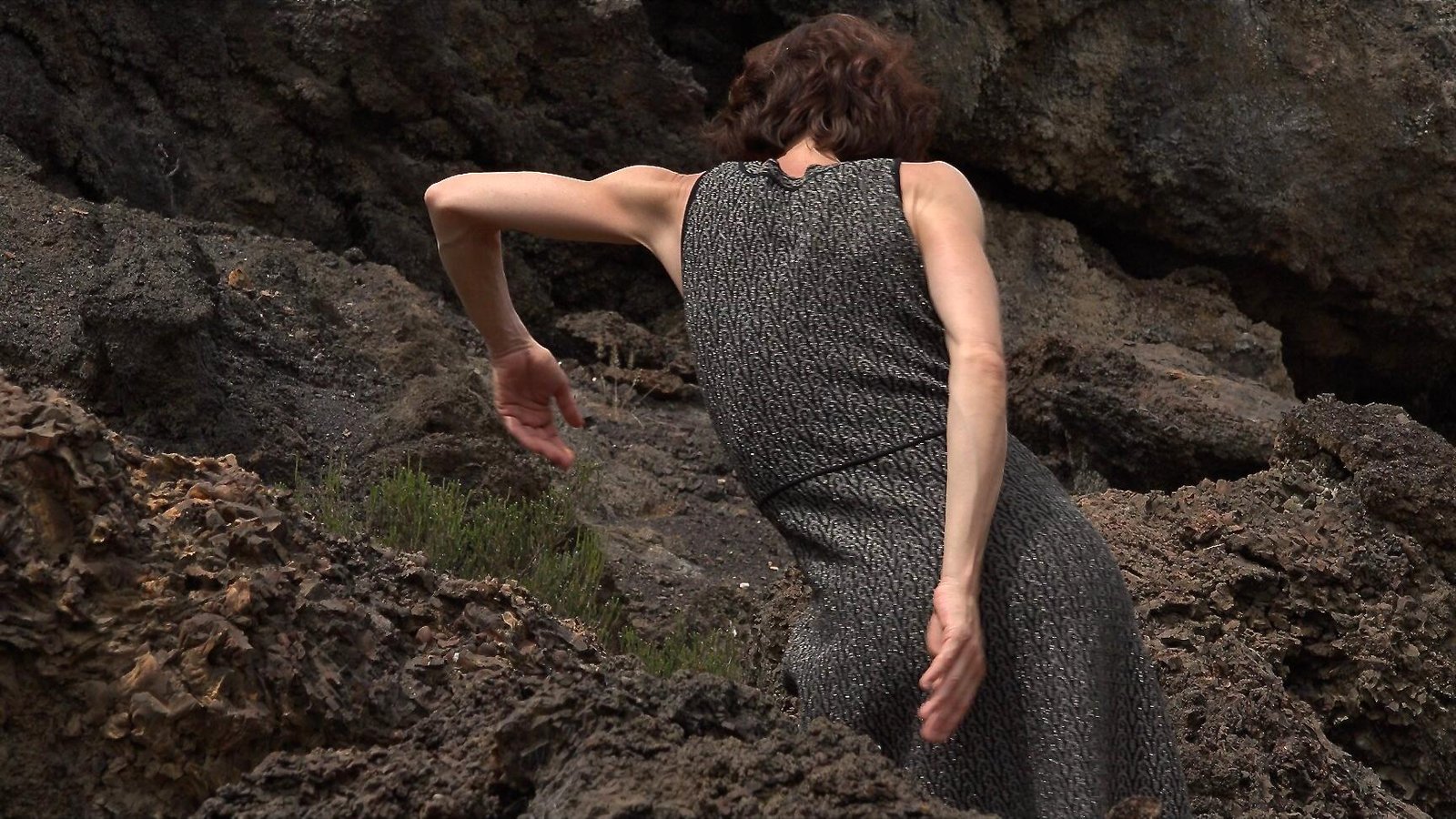 Miguel explores the subliminal interaction between a body and its environment, the pull of collective history on the individual subconscious. Named after Susana Panadés' deceased maternal grandfather, a native of Andalusia and veteran of the Spanish Civil War, the film undertakes a journey through various locations where he spent his youth, enlisted and wounded. Panadés wades through the landscapes, villages and cultural landmarks like a sober observer, instrumentalising her presence like a reflective surface and a catalyst. Through a non-narrative structure, the film delves into the connections between family history, genetic memory, and the influence of historical events on personal experience.
Director Biography – Susana Panadés Díaz
Susana Panadés Diaz was born in Barcelona in 1976. She began her dance training at the Institut del Teatre de Barcelona, where she studied both classical and contemporary dance. In 1995, she moved to Brussels to attend the P.A.R.T.S. program, which was under the direction of renowned choreographer Anne Teresa de Keersmaeker.
Throughout her career, Susana has performed with a number of notable dance companies and choreographers. She has worked with Claudio Bernardo in Brussels, Bettina Holzhausen in Zurich, Catarina Sagna in Venice, and the Fabienne Berger Dance Company in Lausanne. In 2012, Susana directed her own dance piece called "S.P.A.C.E." in collaboration with South African choreographers Thami Manekehla and Thabiso Pule, performed at the La Bâtie festival in Geneva.
In 2009, Susana began collaborating with South African choreographer Rudi van der Merve, performing in "I'd like to save the world, but I'm too busy saving myself" and "Trophee". They also worked together on a six-episode digital series called "Ariel," which was created using motion capture technology and released in 2022.
Since 2005, Susana has been working with Cie Gilles Jobin, a renowned contemporary dance company based in Geneva. She has performed in numerous productions, including "Steak House" (2005), "Double Deux" (2006), "Text to Speech" (2008), "Black Swan" (2009), "The Missing Link – Le Chaînon Manquant" (2010), "Spider Galaxies" (2011), "Shaker Loops" (2011), and "QUANTUM" (2013). In 2016, she had the main role in the 3D movie "WOMB" and created "Forza Forte," a dance duo with choreographer Gilles Jobin, using motion capture technology.
Susana is an expert in digital motion capture technology, and her role includes resolving issues related to the optimization of motion capture from the point of view of the performers. She gives workshops to performers on this subject and has been a lead dance artist on several projects that utilize this cutting-edge technology, including the highly acclaimed "VR_I" (VR, Sundance Film Festival 2018), "Dance Trail" (AR, Sundance Film Festival 2020), "Magic Window" (AR, 2019), "La Comédie Virtuelle" (multiuser VR, Venice Biennale 2020-21), and "Cosmogony" (live mocap, Sundance Film Festival 2022). Susana is constantly pushing the boundaries of what is possible in dance, experimenting with new technologies and techniques to develop choreography and movement inside new 3D spaces.
| country | Switzerland |
| --- | --- |
| runtime | 12:14 |
CREDITS
Director

Susana Panadés Díaz

Producer

Cie Jozsef Trefeli

Key Cast

Susana Panadés Díaz

Camera

Erika Irmler

Music

Camilo De Martino

3D Integration

Susana Panadés Díaz

Editing

Erika Irmler,
Susana Panadés Díaz